What we've all been waiting for!
Over the past month and a half we've been updating you on the new features of the improved Online and Mobile Banking that will be launching next week. In order to make this the most positive transition for you, we've provided all the details on what you can expect to see throughout the launch process below.

We will begin the launch of the improved platform on February 18th. We will be performing a staggered roll out that will continue through March 17th.

For your convenience, usernames and passwords will remain the same.
Opt-In
When your account is ready for the upgrade and you log in through a browser, you'll be prompted with the following message: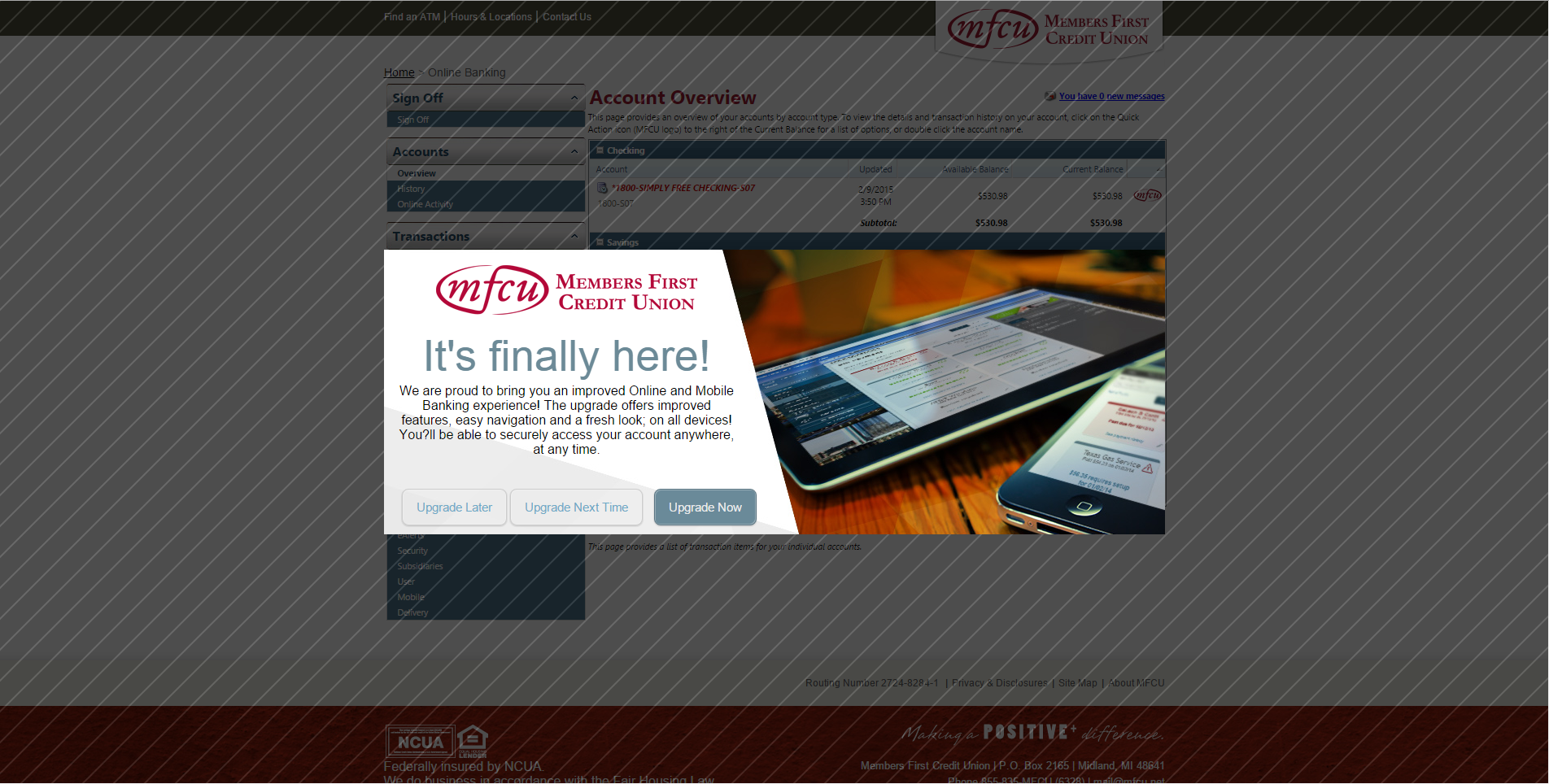 We highly encourage you to take advantage of the new and improved Online and Mobile Banking. To access all of the updated features, click the UPDATE NOW button. After you opt-in, you will be able to fully experience all of the improvements to our Online & Mobile Banking!

If you choose to "update later" you will be prompted with the same opt-in message when you attempt to log-in at another time. If you choose "update next time" you'll be directed to the new platform the next time you log-in to Online Banking. If you choose either of these options and decide that you would prefer to use the new platform, please call us at 855.835.6328 and we get you switched over to the new platform.
Unsupported Browser
If you attempt to opt-in to the upgraded Online Banking system with an unsupported browser, you'll receive the following message: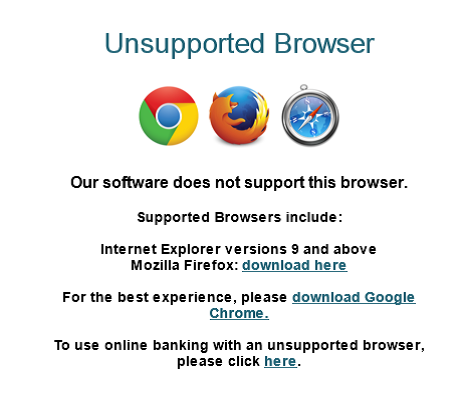 The following browsers have been tested and determined to provide a reliable user experience. Some of these browsers may show minor behavioral or cosmetic differences, but generally support the use of the Online Banking application and functionality. It is always recommended to use the latest browser version available from the provider.
Internet Explorer; Version 11
http://www.microsoft.com/windows/ie/default.mspx
Firefox; Version 27
http://www.mozilla.com/firefox/
Google Chrome; Version 33
http://www.google.com/chrome

Safari; Version 7
https://support.apple.com/downloads/#safari
If you are unsure of what browser you are using, visit www.whatismybrowser.com and it will display the exact browser type and version you are on.
Quicken Support
If you're having trouble exporting your financial information into Quicken or Quickbooks, please click here to visit their support website.
Steps for Refreshing your Online Account Information:
1. From your account register:
· In Quicken 2013 and newer: Select the Actions gear icon at the very top of your register (Ctrl + Shift + N)
· In Quicken 2012 and older: click on Account Actions
2. Then select Update Now.
3. Follow the on-screen instructions to complete the update.
4. Repeat these steps for each financial institution experiencing this error.
If you are unable to setup Express Web Connect or no transactions download in conjunction with the CC-502 error, follow these steps. If you continue to experience this problem, Please wait 24 to 48 hours and try again.
Mobile App
I DO have the MFCU app installed on my smartphone and/or tablet.
If you already have our Mobile App installed on your smartphone and tablet, you simply need to update the app to experience the improvements. Your phone may be set up to automatically update your apps, if so – there is nothing you'll need to do to start using the upgrade when it's available on February 18th.

If you update your apps manually, you'll need to go through your normal process of updating apps in order to continue using the Mobile Banking App. If you have questions on how to do so, please don't hesitate to call us at 855.835.6328 and we can walk you through how to do this.

I DO NOT have the MFCU app installed on my smartphone and/or tablet.
If you don't have the app on your smartphone or tablet, visit the App Store or Google Play and search for "Members First Credit Union." Download the app when it's available on February 18th, log in and start experiencing the positive difference the upgraded app has to offer!
<
« Return to "MFCU Blog"