Members First Celebrates CU Kind Day and 1st Anniversary of Little Free Libraries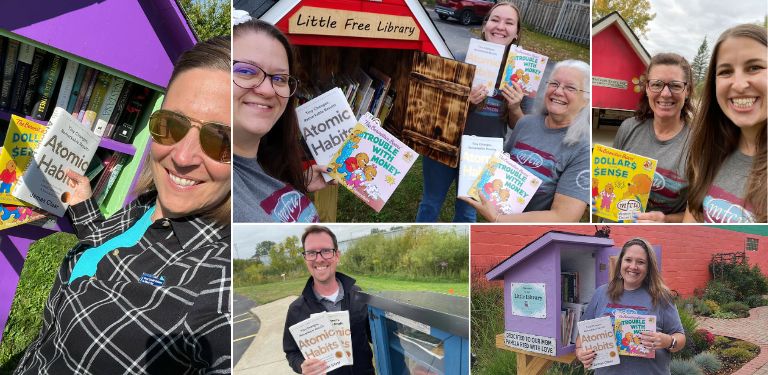 Members First Credit Union celebrated CU Kind Day along with 76 other credit unions across Michigan on Monday, October 9th. This year's celebration is especially significant for the credit union as it marks the 1st anniversary of the Members First Little Free Libraries.
CU Kind Day, a nationwide event, is dedicated to spreading kindness and giving back to the communities, the credit unions serve. Credit Unions from across the country work together by raising money, volunteering, or spreading acts of kindness to make their communities a better place.
One year ago, Members First introduced its Little Free Libraries initiative as a tangible demonstration of its commitment to community well-being. Each of the credit union's 11 branches have a Little Free Library which the credit union contributes financial education books to. The Little Free Libraries have become a staple in the communities it serves. Community members have come to know and love the libraries and actively visit them and contribute to the collection of books.
In this spirit of giving back, Members First donated 350 books to Little Free Libraries throughout the many communities and neighboring regions it serves in celebration of CU Kind Day and the LFL anniversary. Many of the credit union's team members embraced the pay it forward notion that the Little Free Libraries embrace and donated books from their own personal collections. Team members visited and left books at many Little Free Libraries.
"Books are the current of imagination," said Bethany Dutcher, Vice President of Marketing. "We are proud to support CU Kind Day by donating books to our community to empower minds and foster a bright future for our community."
Members First is honored to participate along with other credit unions in CU Kind Day. For more information about how credit unions are taking part in CU Kind Day visit mcul.org/cu-kind. To learn more about Members First Little Free Libraries visit mfcu.net/LittleFreeLibraries.
« Return to "M1 Blog"
Go to main navigation