Members First Announces 2023 Scholarship Recipients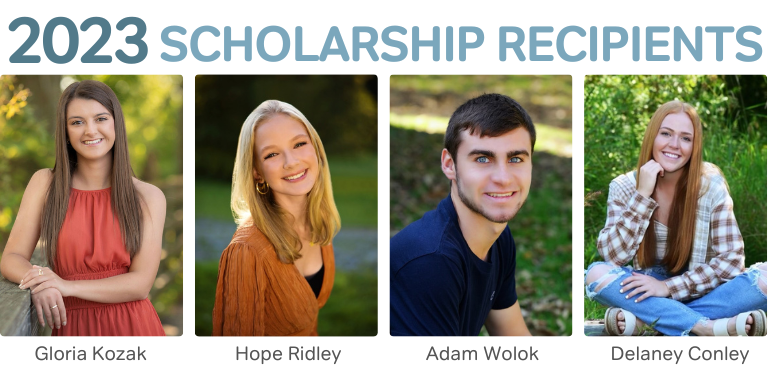 Members First Credit Union is proud to announce the recipients of its annual scholarship program, awarding a total of $10,000 to four exceptional students. The scholarship program aims to recognize and support Members First members within the community as they pursue their higher education goals.
The scholarship program is funded by the annual golf outing, Swinging for Scholarships. The golf outing, which has become a tradition for the past 25 years within the community, brings together local businesses, credit union members, and community leaders for a day of friendly competition and camaraderie. Participants join forces to support the credit union's scholarship program, which has positively impacted the lives of countless students throughout the years.
Among the recipients of this year's scholarships is Gloria Kozak, a Bullock Creek High School senior. She excelled as the Student Council Vice President, led school committees, and captained the Varsity Basketball team. Gloria's musical talent earned her multiple awards as a flutist and piccolo player. Committed to community service, she volunteered for the Santa House and blood drives. Gloria will pursue a pre-med major at Hope College.
Hope Ridley, a H.H. Dow High School senior, is headed to Grand Valley State University for graphic design. She excelled in DECA, qualifying for SCDC multiple times and earning medals. Hope contributed to H.H. Dow High's Student Leadership, Symphony Orchestra, and Peet-2- Peer organizations. With academic excellence and musical talent as a violinist, she is ready to make her mark!
Adam Wolok, a senior at Hope College majoring in Chemical Engineering, is a standout achiever. He received the Hope College Presidential Academic Award for four consecutive years. Adam served as the Student Council President, Teaching Assistant, and Help Session Leader. He is also an active member of the Hope College Ski Club, Volleyball Club, and Men's Bible Study. Adam's Community involvement includes tutoring, supporting local organizations and aiding during the Midland flood.
Delaney Conley, a graduating senior from Gladwin High School, is bound for Saginaw Valley State University to pursue a Nursing degree. She served as Student Council President and earned accolades in varsity softball and volleyball. Delaney's commitment to community shines through her involvement in youth sports camps, Gladwin Little League coaching, and service projects like Girls on Fire and Gladwin Christmas Kindness.
"We are thrilled to award these scholarships to such deserving students," said Kristen Williamson, Community Relations Leader at Members First Credit Union. "Their academic achievements are inspiring, and we are proud to play a part in their educational journey. We congratulate each of the recipients and wish them all the best in their future endeavors."
Members First Credit Union takes pride in supporting the educational goals and dreams of talented students in our community. By providing these scholarships, the credit union aims to empower the next generation of leaders and professionals who will contribute to the betterment of society.
« Return to "MFCU Blog"
Go to main navigation