A note from our CEO, Carrie Iafrate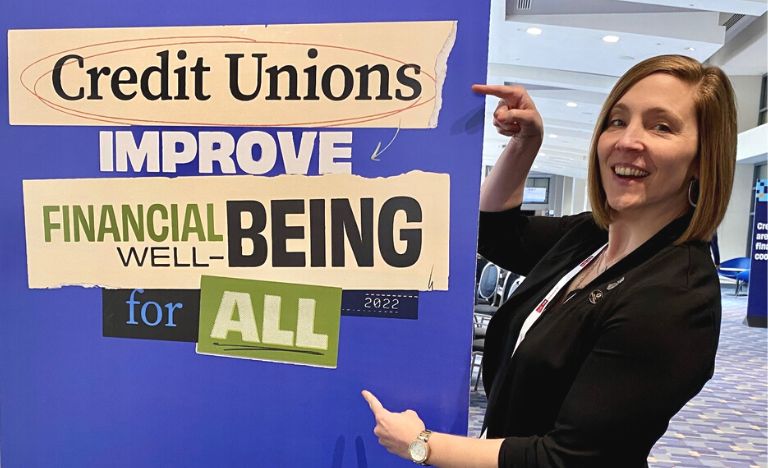 I have so much to connect with you on. We'll start with the tough stuff and build up to a celebration.
The Financial Health Network's 2022 trends report states that only 30% of Americans are financially healthy. 55% are financially coping and 15% are financially vulnerable. 70% of Americans are either financially coping or vulnerable! We see it. Budgets are tight and you are spending more on groceries, transportation, and utilities. We continue to be driving progress on our strategic initiative to elevate our products and services to deliver inclusive solutions that grow your financial wellbeing.
You may need more of our help during this season to ensure you balance spending, saving, borrowing and planning. Please look into all our team has available to you, including:
Money Market turns small change into BIG Savings
Visa credit card balance transfers
No minimum credit score Whatever Loans
Daily credit score reports in Online/Mobile Banking
No down payment mortgages
Competitive CD rates
Online/Mobile Banking budgeting tools
Financial Counseling & Investment Services
Coping with being financially vulnerable is normal and yet can be stressful. If you need help beyond what our FiCEP counselors can offer, I encourage you to take advantage of calling 211 in Michigan for health and human services agency resources, texting HOME to 741741 to connect with the Crisis Text Line, or calling or texting 988 to reach the Suicide and Crisis Lifeline.
We are proud of our commitment to purposeful work in improving and safeguarding financial wellbeing for all. I want more of your friends, family, co-workers, and neighbors to be members too. So, we're investing to enrich our brand presence to be dynamic, inspiring, and a vibrant showcase of our culture to our communities. You may have already seen progress on this initiative by way of interior and exterior building remodeling. We love hearing your pride in seeing your credit union shine. The full brand elevation will be showcased before the end of the year.
And now onto the celebration…you are a member at one of American Banker's 2023 Best Credit Unions to Work For! When you want to grow your business, gather in a new home, drive the car of your dreams, or save and plan your money, you are working with a team of people who love serving you.
American Banker surveyed our team and an impressive 94% like the work that they do. 93% are proud to work for the organization, plan to continue their career, and are willing to give extra effort to help the organization succeed. In the survey two of our team members said,
"I feel heard and cared for here. Our leadership lives what they say and they truly care for each employees' wellbeing. Our employee value proposition talks about purpose, belonging and joy and I feel that every day."
"We are people helping people. We serve the underserved and without judgment. Being able to help people in our communities and our organization makes this an amazing place to work and makes me proud."
Each of our team members are committed to our common bond of people helping people. It is inspiring! Our leaders put intention into every day, creating a culture of purpose, belonging, and joy. Being one of the 2023 Best Credit Unions to Work For validates the amazing things happening here. We are excited to continue our work in building thriving members and communities with you.
« Return to "M1 Blog"
Go to main navigation