MFCU Lives United!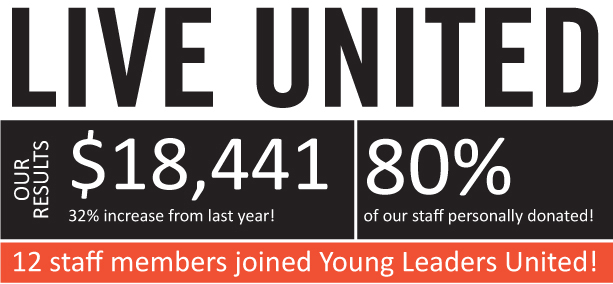 Our employees live our mission of Making a Positive Difference through our service promises and giving back to our communities. Every year, we support our local United Ways in the 6 counties we serve.
This year, we dedicated the entire month of October to United Way. Our staff gave individual gifts, our members and communities supported fundraisers at each branch and staff members had fun competing in chili cook-offs, t-shirts sales and other creative fundraisers they came up with to support the cause.
We've always had a strong support for United Way, but this year we set the bar even higher - raising 32% more than we did last year, with a grand total of $18,441! We had tremendous support from our staff with 80% making a personal donation and 12 staff members joined Young Leaders United; showing their support financially while volunteering throughout the year as well.
« Return to "MFCU Blog"