Updates to Online Banking are Here!
3/16/21
Our Online and Mobile Banking app is freshening up a bit! We have listened to your feedback and have made upgrades to create a more user-friendly experience. Here are a few things to note:
The menu is now on the left side (don't worry - the menu options aren't changing)
There is a new feature allowing you to edit recurring transactions within your account
Multi-factor authentication for your device may need to be reset after the update
If you have any questions or would like more information, please contact us by calling 855.835.6328, stopping by a branch, or utilizing the Live Chat feature within Online and Mobile Banking.
---
Update - 4/28/21
We have added exciting new features to Online and Mobile Banking. These new features give you many new options and ways to take advantage of your online banking as well as to organize and simplify your finances.
SavvyMoney Update:
New credit score option in your menu

You will have to accept a user agreement and answer some verification questions to start using

You can access SavvyMoney by the menu or the widget option (only available on a desktop), which takes you to the Savvy Money interface where you can:

View your current score, score analysis, and score trends (over the length of time you have been enrolled)
View information from your credit report including score, open trades, closed trades, balances, payment history, and more!
Access the 'Score Simulator' tool to see how adding a new credit line, paying a current loan down/off, etc. would impact your score
View other loan products that might benefit you
View alerts about your credit report such as score changes, credit usage changes, payment history updates, etc.
Use credit monitoring
Access FAQS
Make profile changes
Access blog posts with helpful tips and other resources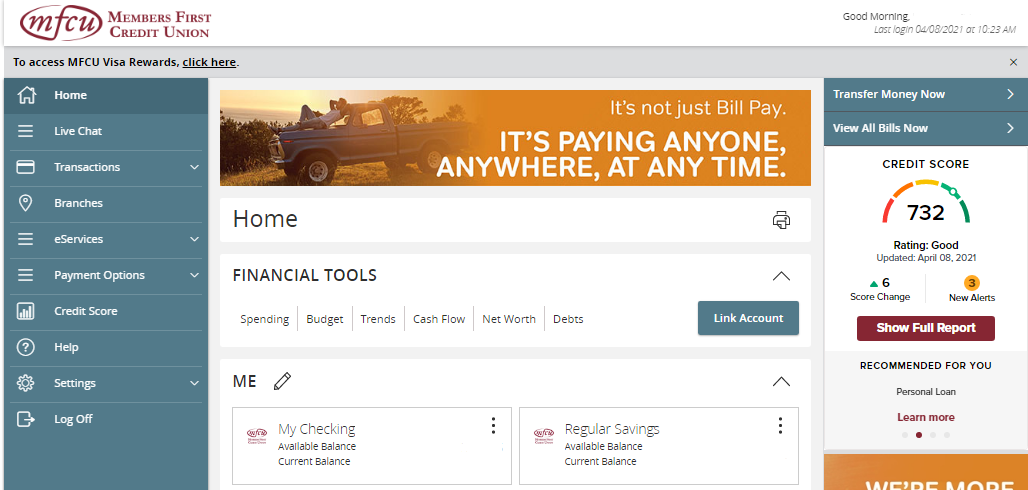 Financial Tools:
Upon login, you will be prompted to enroll
You will immediately see the Financial Tools at the top where you can:

Link external accounts from other financial institutions for viewing purposes

You can click to see transactions just like other shares/loans
You can "hide" in settings (three dots next to account) or account preferences in menu

Categorize transactions (EX: gas, groceries, bills, etc.) – some transactions are automatically categorized while others are unknown

If for some reason a transaction categorizes incorrectly, you can change the category for those transactions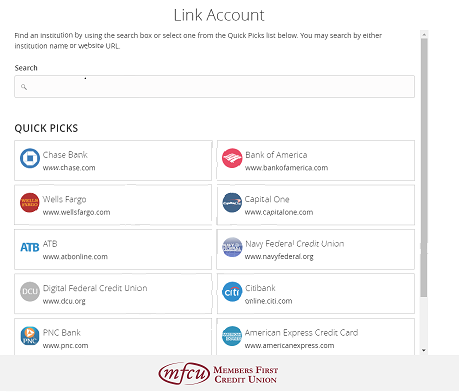 Debts

MFCU and other financial institution debts included
Add or remove any accounts you would like
May show up with a red '!' at first, but you just need to add your monthly payment amount, and that will update to reflect correctly
Can change how you "view" by fastest payoff, highest interest, balance, and etc.
Access payoff options for faster debt payoff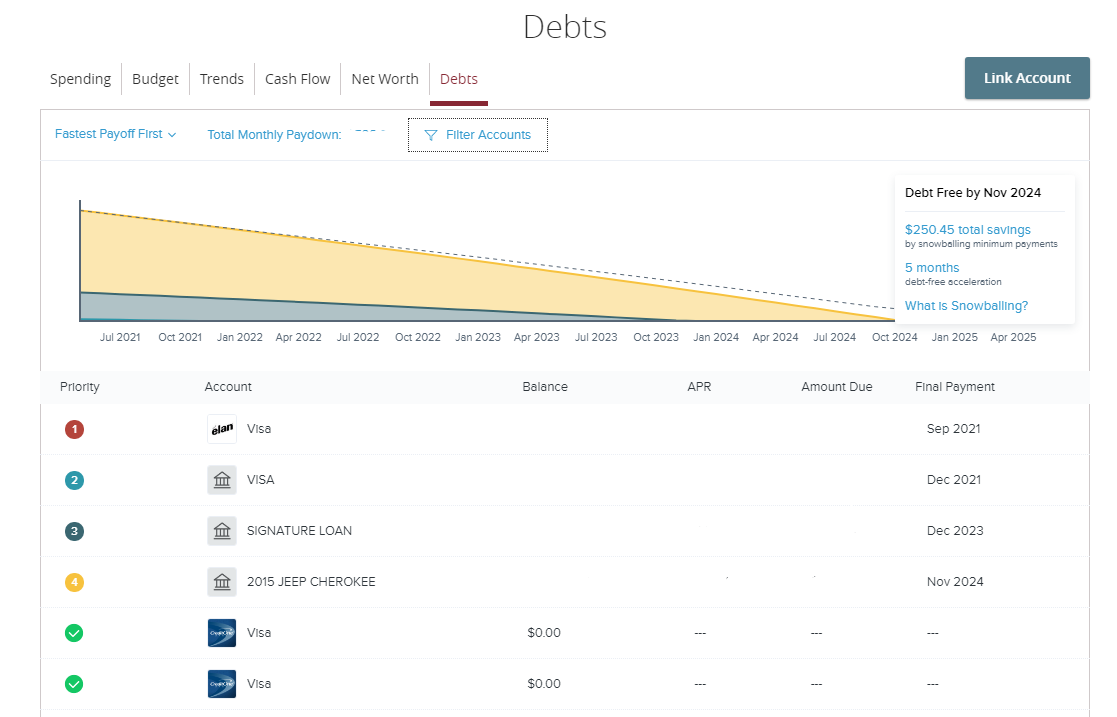 Net Worth

Shows your income, savings, and debts
Gives your estimated net worth based on account balances/loans (assets/liabilities)

Cash Flow

You can add "events" (payments/deposits) that will happen in the future which predicts based on added information how much "cash" will be available

Trends

Shows the trend of spending/income over amount of time (you can choose how long)
You can add in/remove which accounts you would like to view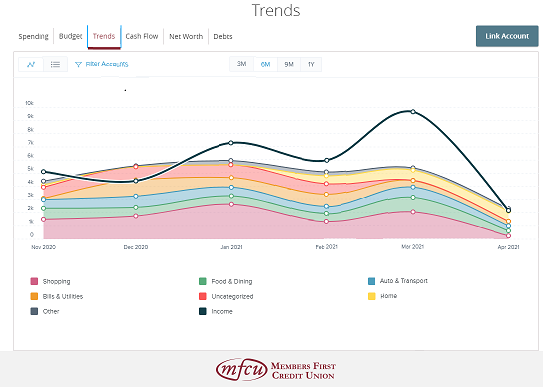 Budget

You can "create your own" or use the auto generated budget option

Even when you use auto generate, you can adjust all aspects of the goal

Shows green, yellow, or red categories to establish where you are at with your budget categories

Spending

Shows a circle graph that has each categories "spending"
You can view the categories and all transactions within the category
Update "transactions" that are not categorized correctly
Choose the time frame you are viewing this information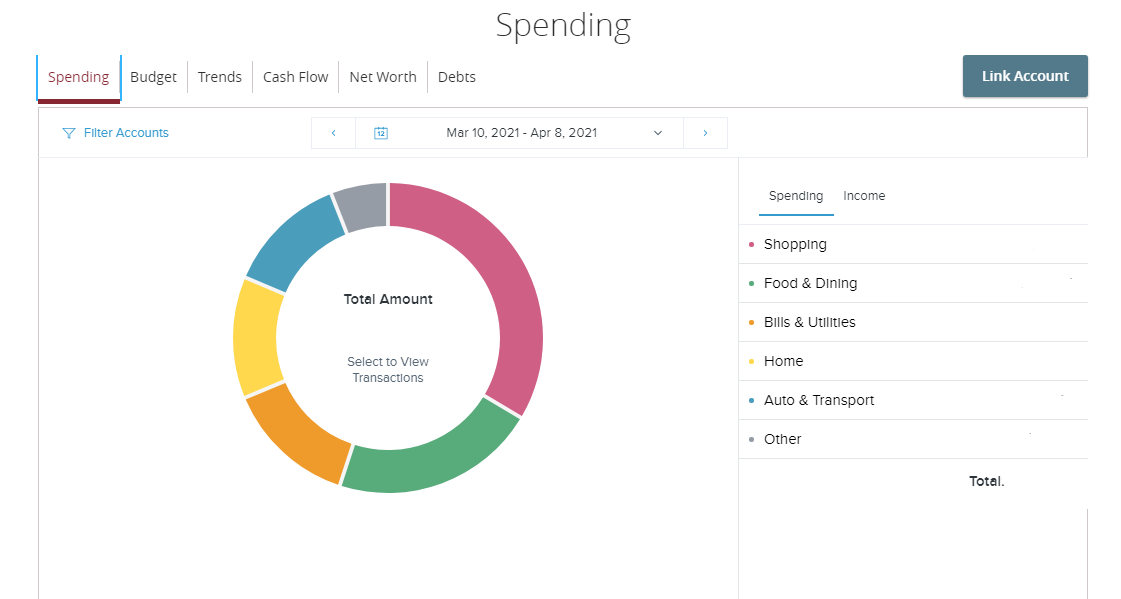 We can't wait for you to start using these new tools and features! If you have any questions about these new updates or need help using them, we are here to help. You can contact us by calling 855.835.6328, stopping by a branch, or utilizing the Live Chat feature within Online and Mobile Banking.

« Return to "MFCU Blog"
Go to main navigation