Start Getting Rewarded for Purchases You're Already Making
From groceries, to clothes, to home improvement projects, where and how you spend your money is a reflection of your life. It's important that you have a credit card with an institution that you trust. You are already making purchases, why not start getting rewarded for them?
We get it, some rewards programs can be confusing, so we want to make it as easy as possible for you to earn and redeem your MFCU VISA Rewards points. MFCU Rewards are just as competitive as what you might find at a big bank, but from a cooperative you are a part of, right here in your own community. So you can be proud to use a card that comes from the same place you do.
How do I earn MFCU rewards?
Members First Credit Union Rewards are earned by making purchases with an MFCU Visa Platinum Rewards credit card. 1 MFCU Rewards Point is earned per every $1 spent. Points are rounded up to the nearest dollar, so a purchase of $12.34 earns 13 MFCU Rewards Points.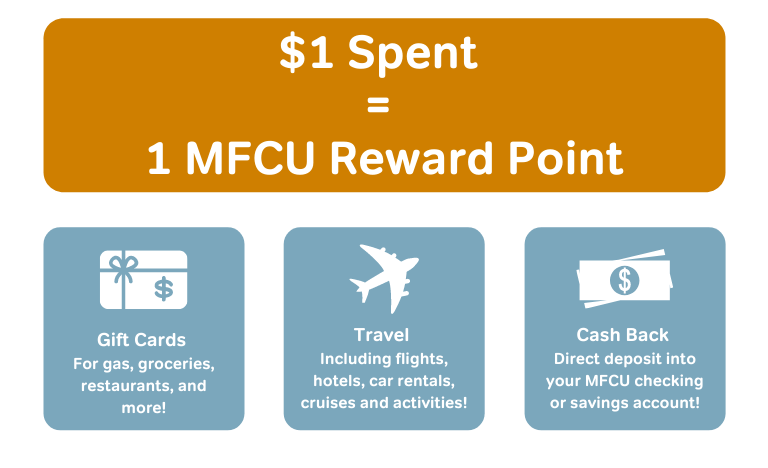 How do I redeem my MFCU rewards?
Your MFCU Rewards can be redeemed using the MFCU Rewards portal. You can set up an account with your MFCU Visa Platinum Rewards credit card, then visit the 'Redeem Now' Button, or select your preferred option from the drop down menu.
To redeem for gift cards:
Select Gift Card option
Select the vendor you would like a gift card from
Add to cart and 'checkout'
To redeem for cash back:
Select Payout Options
Chose Direct Deposit
Select the amount you wish to receive as a form of direct deposit.
2,500 points = $25
To redeem for travel:
Select the Travel option
Select which form of travel you would prefer
Search for flight, hotels, activities and more using the travel portal, similar to your favorite online booking site!

It's not just a credit card, it's getting rewarded for the purchases you're already making.

« Return to "MFCU Blog"
Go to main navigation