National Credit Union Youth Month!
Financial Education!
April is National Credit Union Youth Month!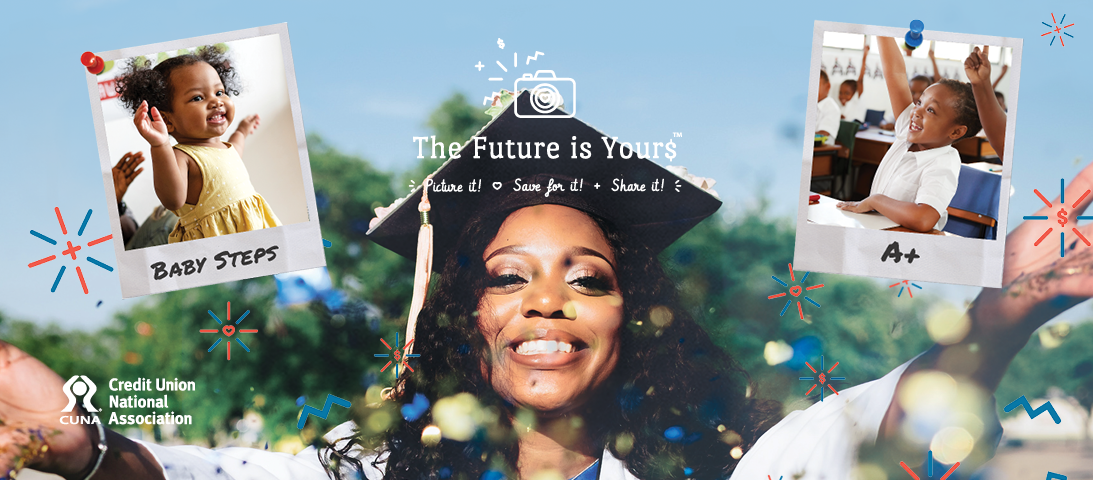 Members First Credit Union takes pride in helping to educate youth membership to prepare for their future through financial education. Help your kids picture their future!
We often look at pictures to remember the past, but are you ready to picture your future?
If you ask your children, they can likely picture a future they would like to live in. Some dream to become doctors and help people, others want to be known for their talent. For children and teenagers, the future brings limitless possibilities. But no matter what their dream is, financial education can be instrumental in helping them achieve their goals.
The theme for this year's National Credit Union Youth Month is "The future is yours… Picture it! Save for it! Share it!". Together, we're encouraging youngsters to express themselves through photography, sharing their visions for their own financial futures so we can help them get there.
Use of Polaroid images in juxtaposition to photos of accomplished adults in the theme is no coincidence – research shows that when you picture yourself in the future achieving a goal, like becoming a ballet dancer or going to college, saving for it becomes easier.
Start small. Help your children save for a toy they want. Then sign them up for a youth savings account where they save for far-off goals.
As your credit union, we want to help you teach your children to learn good financial habits. Together we can help them fulfill their dreams no matter big or small.
To learn more about our youth accounts, click here!
To apply for one of our scholarships, click here! Applications are due April 19th!
We are also holding a Youth Coloring Contest in April! Click here for the coloring page or stop by one of the branches to pick one up. The coloring pages will be displayed in the branch they are submitted to, and at the end of April a winner will be chosen to recieve a gift card!
« Return to "MFCU Blog"
Go to main navigation