Limited Time: Earn Double MFCU Rewards!
We know that how you spend your money is a reflection of who you are, now more than ever. From buying groceries and other essentials for your family, paying heat or electric bills, doing some home improvement projects, or celebrating the holidays, it's important to have a credit card from a partner you can trust.
Let's make this the best holiday season it can be with an MFCU VISA Platinum Rewards credit card!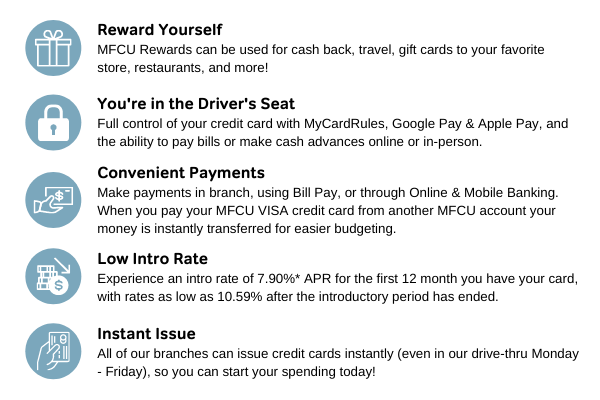 That's right, 2 points per every dollar spent! So for every bill paid, every gift bought, every grocery order where you use your MFCU Visa Platinum Rewards credit card, you are earning 2 points per dollar spent! MFCU Rewards can be redeemed for gift cards to your favorite store or restaurant, future travel, and cash back.

You could be spending with your VISA today!
All of our branches now have the ability to print your card if you are approved, so you could start using your MFCU Visa Platinum Rewards credit card and earning MFCU Rewards points right away. Schedule an appointment to apply at your favorite branch!
Approval and credit limit based on credit worthiness. Some restrictions may apply.
*7.90% APR (annual percentage rate) for one year, then increases to 10.59% to 18.90% based on credit worthiness.
« Return to "MFCU Blog"
Go to main navigation