Holidays Happen!
We're not just a credit union... we're your "make the holidays happen" partner!
The list of places to be and things to do can feel overwhelming and expensive around the holidays. Whether it's money for extra groceries, unexpected bills, or new kitchen appliances, MFCU has the personalized solutions to make this holiday season the best yet.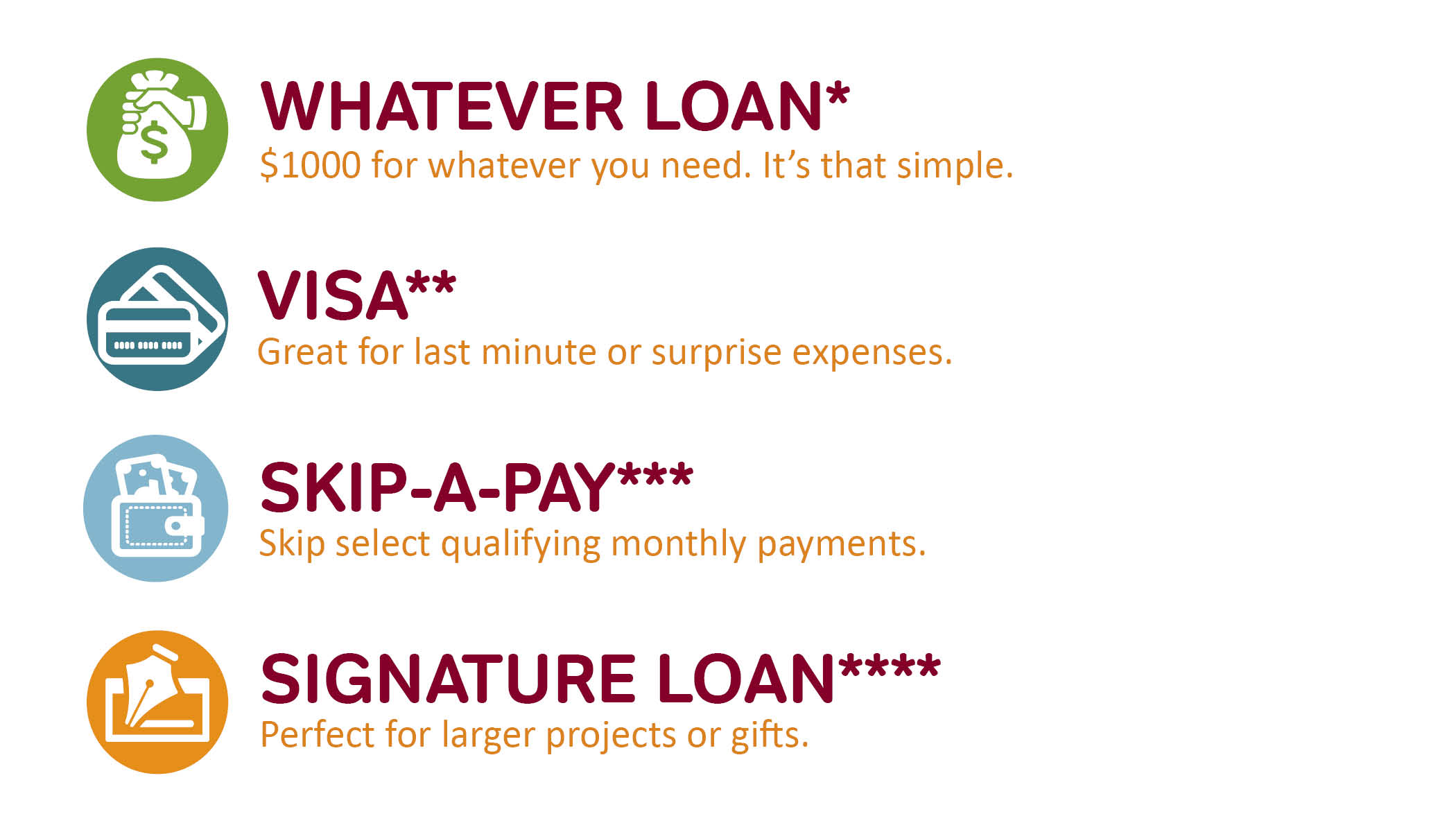 Want to find your "Make the Holidays Happen" solution? Stop by a local branch and one of our loan officers would be happy to help you!
WHATEVER LOAN: A $25 processing fee will be assessed and may be funded with the loan, bringing total loan amount to $1,025. In order to receive the Whatever Loan, you must not have caused MFCU a loss, must be at your place of employment for at least 6 months, and be eligible for membership. A Whatever Loan of $1,025, covered with life and disability insurance, will have 12 monthly payments of $95.80 and an annual percentage rate of 22.750% APR. Insurance not required. Additional restrictions may apply.
VISA: Approval and credit limit based on credit worthiness. Some restrictions may apply.
SKIP-A-PAY: All loans must be current to qualify for a Skip-A-Pay. A Skip-A-Pay will not be granted if you have caused the credit union a loss, have any charged off loans that were not redeemed or have a current Trouble Debt Restructure or Loan Modification. First Mortgages, Second Mortgages, Home Equity Line of Credit Loans, Prime Line of Credit Loans, Overdraft Line of Credit Loans, Balloon Loans, ERN Bridge Loans, Whatever Loans, Business Loans and VISA cannot be postponed. Loans with active creditor-placed insurance, and those being paid by disability insurance, are ineligible for Skip-A-Pay. A $25 fee will be charged for any skipped payment. Skipped payment will be added to the end of your loan and the date of the final payment will be adjusted to account for the skipped payment. Interest will accrue on the balance of the loan during the skipped payment, and may cause an increased final payment. The credit union reserves the right to disapprove any request for postponement with proper notification and disclosure. Other restrictions may apply.
SIGNATURE LOAN: Loan subject to credit approval. Some restrictions apply.
« Return to "MFCU Blog"
Go to main navigation