Happy Birthday MFCU!
It's our birthday, and we want to celebrate with our amazing members! After 84 years of serving our local communities, we thought we would travel back in time and take a look at some of our favorite moments.
1936
November 16 to be exact, The Teachers' Club at Midland High School contributed $50 toward starting a credit union called Midland County Teachers Credit Union.
1969
As the credit union began serving all school employees in addition to teachers, the credit union was renamed Midland County School Employees Credit Union
1992
The credit union began offering Visa credit cards. We know offer one of the best Visa card around (if we do say so ourselves!). Learn more about our Visa credit cards.
1997
On March 17, the name is changed to Members First Credit Union.
1999
The inaugural Swinging for Scholarships Golf Outing is held.
2000
The credit union adds Saturday drive-thru service.
2008
The $1,000 Whatever Loan is introduced. What's a Whatever Loan? Learn more about how it can help you during this decidedly different year.
2010
MFCU breaks onto the social media scene by creating our Facebook page. Make sure to 'like' us!
2012
Members First Credit Union merges with Central Michigan Community Federal Credit Union. Also, the Community Difference Project is launched.
2017
Members First Credit Union merges with FedCom Credit Union in the Grand Rapids area and begins to serve members on the west side of our beautiful state.
2020
Members First Credit Union teams up with other credit unions serving the Midland area to offer flood relief grants to those impacted by the historic flood.
We've come a long way, and we want to personally thank you for coming along for the ride! Althought it's been a difficult year, we are excited to see what the future brings. Cheers to another 84 years (and beyond)!
Here are some more fast facts about Members First Credit Union, and credit unions in general: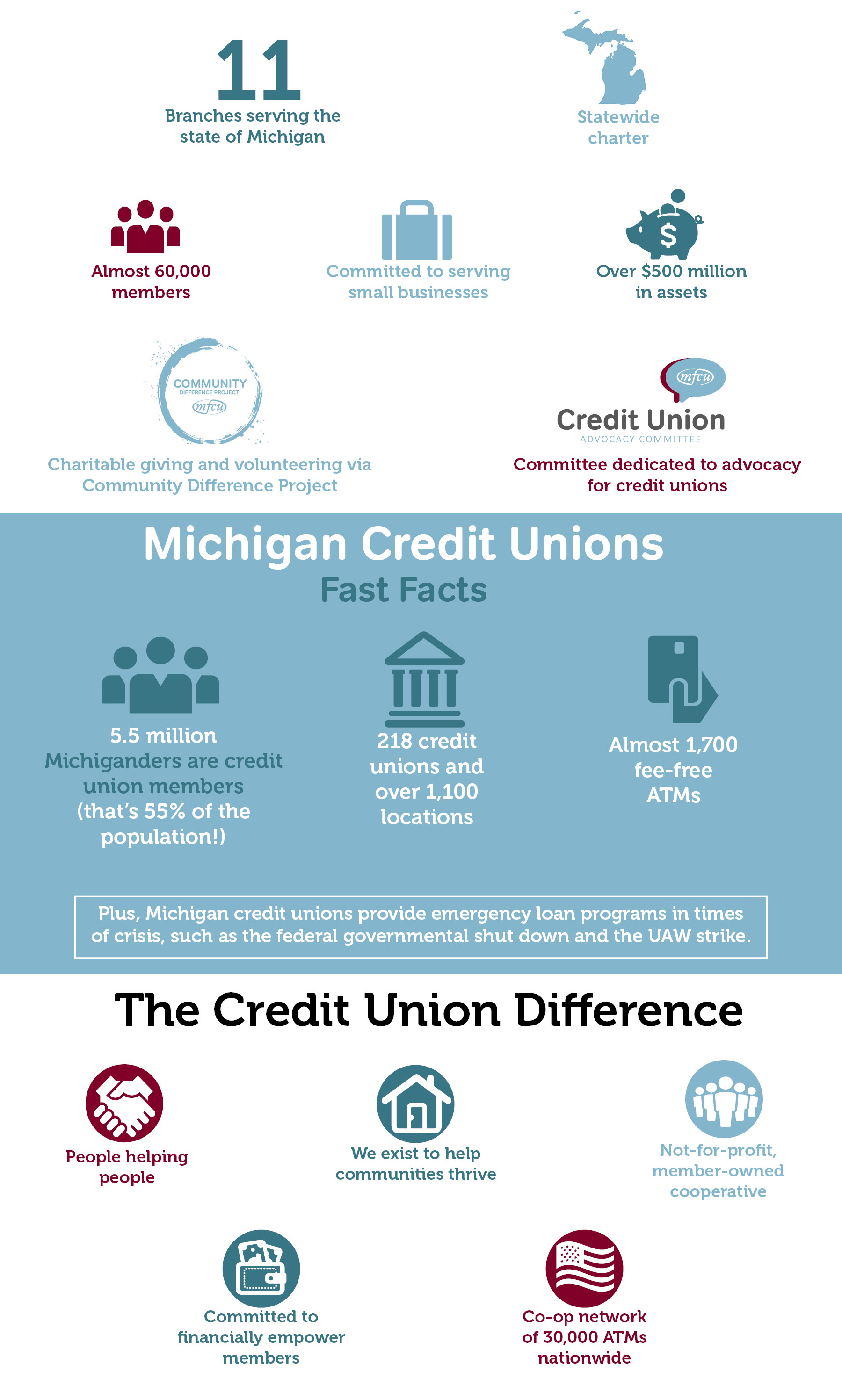 « Return to "MFCU Blog"
Go to main navigation