Budgeting Like A Boss

Do you find yourself struggling to save? Forgetting to pay a bill? Life is messy and sometimes it can be hard to keep extra money to put towards your savings or to pay off your debt. There are many ways to improve your finances and give yourself a boost including creating a budget, changing your spending habits, or removing some of your expenses altogether. The little things that you don't realize how much money you are spending on can make a big difference and impact within your budget. Utilzing a budget allows you to plan for upcoming expenses as well as make sure you are saving money for the things that are important to you. A budget also allows you to set goals for yourself and keep track of your progress towards those goals.
Tools and Resources
There is a variety of tools and resources out there to help you create and maintain a budget as well as improving your credit score and learning how to save for what matters most. As your financial partner, we want to make sure you are aware of the benefits you have as a credit union member and ensure you have the financial education tools to help keep your finances on track. Some resources and budgeting tips that we would suggest you take advantage of include:
Budgeting Apps
When it comes to budgeting apps, your choices are endless. Finding one that works for you will allow you become financially savvy and keep your finances in check while allowing your savings to grow. Most apps allow you to input transactions from your bank account in a secure way without connecting directly to your account. Features often include goal setting as well as categories and trackers for savings, investments, and expenses. Graphs and charts are used to give you a better visual understanding of your budget. Below are some free budgeting apps, but some do have upgraded versions you can pay for. The upgraded versions or apps that have an annual cost will be more in-depth and user-friendly – it is up to you to determine if the cost of a budgeting app is worth it or if you are able to take care of your budgeting needs with the free tools that are available to you.
EveryDollar
Mint
Goodbudget Budget Planner
Wally
Excel Spreadsheets
We recommend using Pinterest to search for budgeting templates and find the one that works best for you - there are many different styles and methods available to download for free. If you don't have Excel, you can use Google Sheets for free online access to Excel spreadsheets, and this allows you to give others access (like your spouse) to input items they are spending as well.
Old-fashioned Notebook
Sometimes writing out your own budget with a pen and paper works best. Use sticky notes for reminders and bust out your favorite colored gel pens to keep your sections and categories organized and separated.
Money Saving Challenges
There are many different money saving challenges out there for you to participate in. Find one that fits your timeline and goals, and see if it will help you with your saving techniques. By sharing your progress with others on social media channels, you will be more likely to stay motivated to keep saving and also help encourage others to do the same!
Reducing Spending or Expenses
Many of the expenses you have or items that you are spending money on can be making a bigger impact on your budget that you may realize. Once you start using your budget, you will be able to see just how much these items are costing you and it may encourage you to cut back spending on certain items or remove specific expenses completely from your budget.
Eating Out
Going out to eat is fun, but eating at home can be much more cost efficient. Take a look to see if each month you can replace some of your fast food meals or trips to eat out with home cooked meals - this can be a much more healthy option as well!
Subscriptions
TV packages like cable can be much more expensive than using a cheaper streaming service like Netflix or Hulu. Other subscriptions you may have signed up for at one point and no longer use and don't realize they are still being pulled from your account. You could have signed up for something to try it and now realize you may not be getting the value out of it you intended to or no longer want it like you did when you initially signed up and now it is something worth cutting out of your budget.
Fancy Coffee or Specialty Drinks
Even a small amount of money for items like a cup of coffee adds up when you are purchasing it multiple times a week and consistently all month. See if you can replace a few of these a month with a cup of coffee at home and save a few bucks! By cutting down the amount of expensive drinks you buy, it can be a simple way to save money each month.
Shopping & Buying "Name" Brand
Buying new clothes or items in a store may often be a result of impulse buying – try to think about these purchases and determine if you really need it or if there is possibly a cheaper option like buying clothes secondhand or that aren't "name" brand. Although many of us like to purchase "name" brand items when it comes to clothing, accessories, groceries, and more, choosing to go with a generic brand or secondhand items may have a much lower price.
Books
Instead of buying new books in a store, check with friends to see if you can swap books or check with your library to see if you can check out books for free or cheaper than purchasing them. eBooks are often a cheaper option as well!
Interest Payments
It may be worth investigating to see if you are able to transfer your debt onto an interest free credit card or loan with a lower interest rate. Debt consolidation is a great method for reducing not only the amount of interest you are paying but also the amount of payments you are needing to make each month. Click here to learn about consolidating debt at Members First Credit Union!
Gym Memberships
Are you using the gym membership as you intended? If 2020 taught us anything, it's that you are more than capable to work out at home, and it may be cheaper to make a one-time payment on some gym equipment rather than continuously making a membership payment each month and using gas to get back and forth to the gym everytime you go.
Gifts
Check to see if there is something on clearance or an easy DIY item that you can make at home. People love homemade gifts and you can improve your crafting skills while also saving some money!
Online Shopping
Many retailers will often send coupons, discounts, or promo codes if you put items in your online shopping cart and then close out the browser and choose not to move forward with the purchase. Put items in your cart and just make a note of what you want to purchase, and then close out the browser and come back in a day or two to actually purchase those items. Most likely, you will receive some sort of incentive in your email or in a popup ad that will allow you to save money. Before making your purchase, it may also be beneficial to do a quick google search for coupons or promo codes for that business that you can enter at checkout to save some extra cash.
Tobacco
A habit of smoking or chewing can be a huge budget killer - not only will cutting back or trying to quit help your budget, but it will help your health as well!
Budgeting Tips
Look at utilizing a credit card with rewards or cash back - click here to check out the MFCU Rewards VISA
Start investing - even with a small amount it can make a big difference and everyone has to start somewhere
Stay organized with whatever budgeting tools you are using
Read up on cheap meals, tips on lowering your electric bill, and other money saving tactics
Buy in bulk
Save your cans and bottles to return
Utilize coin jars - those coins add up
See if you can get a cheaper price with monthly costs like your cable and internet
Set up special savings for items like vacations or weddings - reach out to MFCU to set one up in your account
Set up automatic payments for loans or credit cards to ensure they are not only paid, but paid on time - reach out to MFCU to set these up in your account
Visit annualcreditreport.com for a free credit report each year - if you have questions, ask a representative from MFCU to go over it with you and give tips on how to improve your credit, set up a budget and understand what you should be spending verses saving each month
Refnaincing and debt consolidation - click here to schedule an appointment
Start a side hustle – babysitting, dog walking, DIY projects or making items to sell, selling old clothes, part-time jobs, and online surveys are all great options
Use your debit card rather than cash so you are able to track your spending and see exactly where your money is going
Possible Items to Include in Your Budget
There are many different items and categories that you may need to include your budget. Take a look at what bills you are paying, and look back through your account to see what you are typically spending money on and need to include.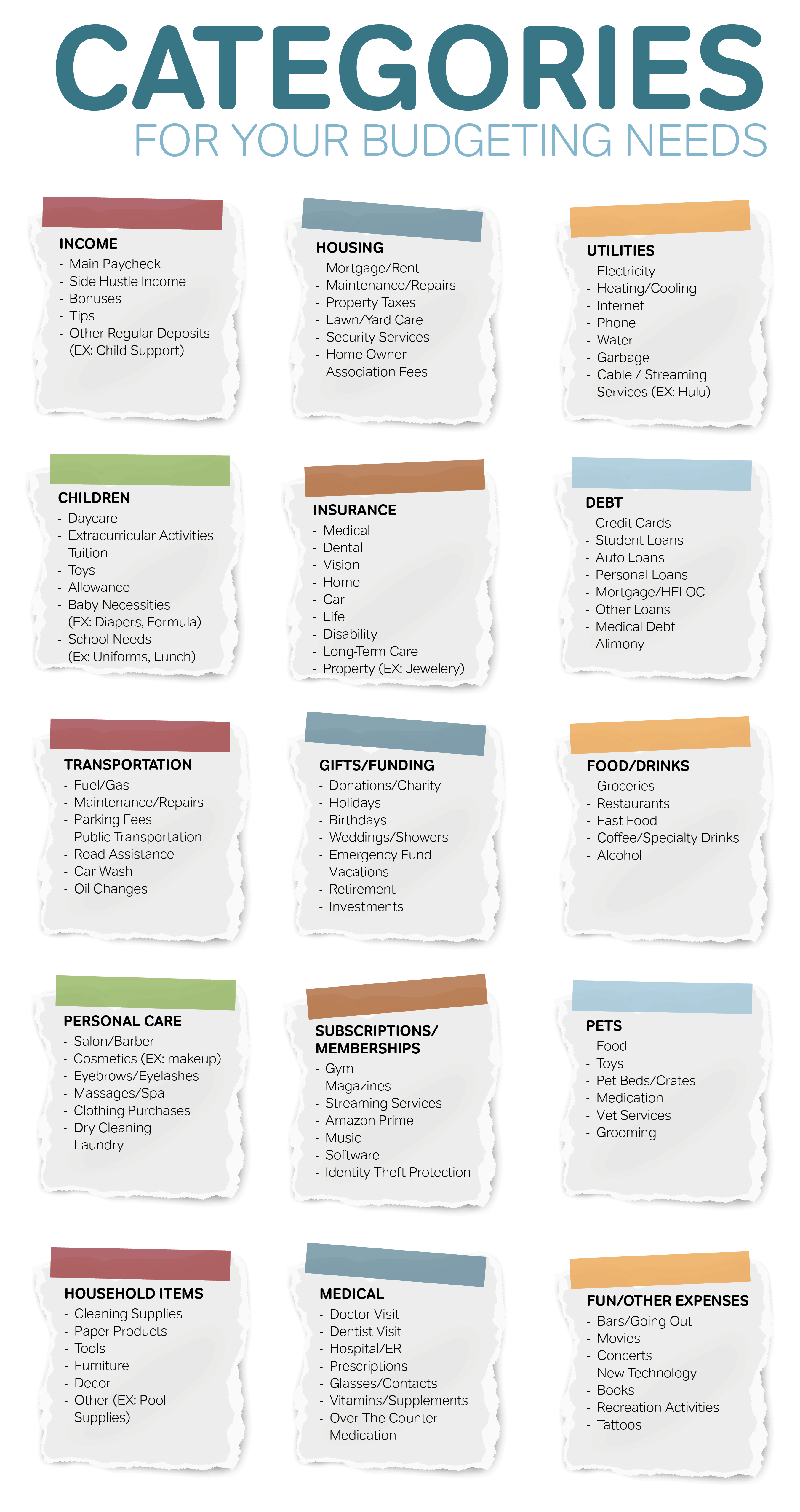 « Return to "MFCU Blog"
Go to main navigation